Joseph Kent killing: Samir Bostan says punch was 'self defence'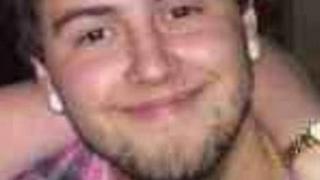 A man accused of fatally punching a man on a night out in Milton Keynes has told a court he had been defending himself as he tried to "defuse" a row.
Joseph Kent, 24, died two days after sustaining head injuries outside KFC, at Xscape in January last year.
Samir Bostan, 25, told Luton Crown Court if he had not hit Mr Kent, "he was going to strike me as far as I was concerned".
Mr Bostan, of Wolston Meadow, Middleton, denies manslaughter.
The jury has heard that Joseph Kent died as a result of receiving a punch to his face and jaw, which caused a blood vessel going up through his neck and into his brain to tear, causing a fatal bleed.
Mr Bostan told the court on Monday that he, his brother Tariq, his cousin Hamza Noor and two women had gone out to a bar in the town on Saturday 12 January.
In the early hours of Sunday, they went to the restaurant at the Xscape building, where Mr Bostan went outside to find a taxi.
"I walked back to KFC and saw something happening with my brother and another guy," he told the jury.
He said he tried to "defuse" the situation.
Celebrating birthday
Asked by his barrister Jeremy Carter-Manning why he had not left his brother at the scene he said: "I couldn't do that. That's my family."
He said he had hit the people who were attacking his brother, one of whom was Mr Kent who he agreed he had struck more than once.
Asked why he had punched Mr Kent a second time, Mr Bostan said: "To get him away."
He said he was sure the other group were going to attack his brother, then him and his cousin Hamza Noor.
Mr Carter-Manning asked him: "Did you, at any stage, want to injure anyone?"
"No, I didn't intend that at all," he said.
The court has previously heard Mr Kent had been in Milton Keynes celebrating his wife Emma's 22nd birthday.
He was queuing with his wife, his brother Matthew and friend Andrew Cruzon-Berners when a fight broke out, which the jury has been told the fight was instigated by Tariq Bostan, with Samir Bostan and Hamza Noor joining in.
Samir Bostan also denies causing actual bodily harm to the victim's brother, Matthew Kent.
Hamza Noor, 22, of Ranelagh Road, Wembley, north-west London, denies the same charge in relation to Mr Cruzon-Berners.
Tariq Bostan, 27, of Sarum Road, Luton, has admitted two counts of causing actual bodily harm to Matthew Kent and Mr Cruzon-Berners, and will be sentenced at a later date.
The trial continues.