Luton 'car crash' shooting four men charged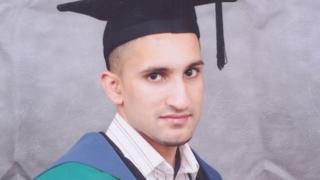 Four men have been charged in connection with a shooting following a car crash.
Atif Ali, 27, was driving an Audi A3 which collided with another car in Dunstable Road at the junction with Leicester Road, in Luton, on 20 May.
Police said he got out of his car to talk to the other driver and was shot in the leg.
The four men are due before Luton Magistrates' Court on 17 January to face the charges.
Police described Mr Ali's injuries as "life changing".
Sajed Hussain, 31, of Portland Road, Luton, and Mark O'Neil, 40, of Lansbury Drive, Hayes, Middlesex, have been charged with conspiracy to murder.
Shazhad Mahroof, 28, of Selbourne Road, Luton, has been charged with making threats to kill and conspiracy to murder.
Bernard Pillay, 41, of Campion Close, Hillingdon, Uxbridge, has been charged with conspiracy to murder.
All four are presently in custody.
A 40-year-old man has been released on police bail pending further investigations.