Watford allotments included in new hospital campus plan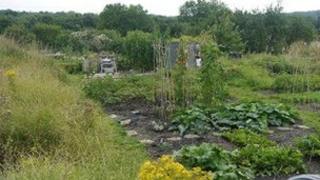 A big new hospital site planned for Hertfordshire can include historic disputed allotments, Communities Secretary Eric Pickles has ruled.
Watford Borough Council can now take over Farm Terrace allotments as land earmarked for a new health campus.
Allotment holders won an appeal against the council's first plan but this was overturned when a revised scheme was accepted by Mr Pickles.
Save Farm Terrace Allotment campaigners have pledged to continue their fight.
The council said the Watford health campus would offer improved patient care and the overall scheme would include new homes and affordable housing.
'Exciting plans'
West Hertfordshire Hospitals NHS Trust plans to build the campus and move key clinics and some surgery there from other parts of the county.
Watford's elected mayor Dorothy Thornhill said: "It's been a hard journey but we can now get on with sharing the exciting plans for the health campus with the community.
"I understand that this is not the outcome Farm Terrace allotment holders wanted, but all are being offered good, alternative allotments very close by and support with the relocation."
Save Farm Terrace Allotments campaigners said: "Eric Pickles has once again found in favour of Watford Borough Council developing on our precious allotment site.
"This time we are, however, in an even stronger position to fight it. We will now leave it in the hands of our very capable lawyers.
"We are not giving in or giving up until we save Farm Terrace and save all allotments."