Victim 'haunted by Catholic orphanage abuse'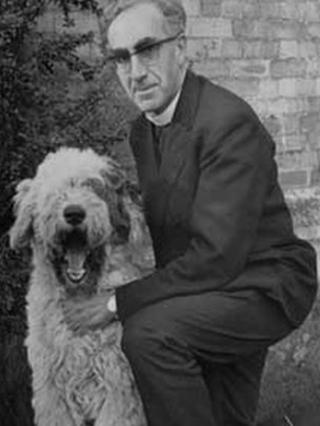 A former resident of a Catholic orphanage at the centre of a police inquiry has said he is still haunted by the "nightmare" of abuse inflicted by a priest and nuns.
Tom Browne, 70, originally from Cambridge, was sent to the St Francis Boys Home in Shefford, Bedfordshire, in about 1950.
Mr Browne has waived his right to anonymity to speak about the abuse.
He is the second man to allege abuse by Father Wilfred Johnson.
Fr Johnson ran the home between 1945 and 1954 and died in 1994.
'Face of perversion'
In May, Bedfordshire Police revealed an investigation had started over allegations of abuse at the home in the 1950s and 1960s.
Mr Browne, who now lives in Plymouth, told the BBC the home "was without doubt the cruellest place that I have ever known in my life".
"It all began as a nightmare and ended as a nightmare," he said. "Even today... the time at the home still haunts me."
He said he and his brother were sent to the home because their mother became ill and their father "could not cope with five children under 10 years old".
Mr Browne said: "Fr Johnson... beat me the very first day I met him - it took place in front of the whole school.
"I was left bewildered and bleeding from grazes and cuts on my legs, arms, face and head. He beat me without mercy.
"Fr Johnson's face is as vivid now as the day he beat me - it's a face that will remain with me forever, a hard face, a face of a bully, a face of perversion."
Mr Browne said he was also abused by nuns and that the treatment they suffered "never left me or my brother".
"The beatings, the physical and indecent abuse suffered at the hands of a Catholic priest and nuns left my brother and me with utter hatred for the Church and those associated with it," he said.
He said his brother, who died in 1999, suffered "unduly under the cruel and sadistic regime" at the home.
"He never forgot - prior to dying he cried when he told his wife of the vile and perverted way he was treated by priests and nuns," said Mr Browne.
"My brother died - he did not forgive or forget - he would not allow a priest near him when he was dying."
He called for the Church to apologise for the abuse.
A second man, who asked to remain anonymous, has already told the BBC he was abused by Fr Johnson.
The BBC has talked to a number of former residents of the home who allege they were physically and/or sexually abused at the orphanage, run by the Catholic Diocese of Northampton.
Many allege they were abused by Fr John Ryan, who ran the home in the 1960s after Fr Johnson, who died in 2004, had left.
Police investigating the complaints said the suspects included a priest and four nuns, who had since died.
The Diocese of Northampton, which ran the home, has previously said it "deeply regretted" any hurt caused, but described the claims of abuse as "not proven".
In December, a 77-year-old man from Thetford was arrested in connection with a police investigation into the home not connected to Fr Johnson, or to Mr Browne's allegations.
He was interviewed and released on police bail pending further inquiries.