Barnfield pupils 'were spoon-fed to meet grade targets'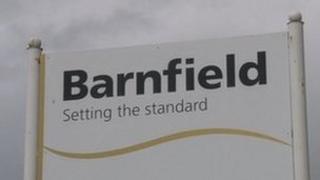 Former teachers at a schools group under government investigation have claimed staff were ordered to "spoon-feed" students to meet grade targets.
Ex-staff from the Barnfield Federation also allege some students with special needs were placed under extreme stress by "unrealistic" targets.
The Hertfordshire-based group "strongly refutes" the claims.
It is currently being investigated by the Department for Education (DfE) over allegations of grade massaging.
Barnfield Federation runs four academies, a free school and a college in Bedfordshire.
'Grade-massaging'
In October, the DfE and the Skills Funding Agency (SFA) confirmed they were investigating allegations of grade massaging and "operational finances" against Barnfield Federation and Barnfield College but would not comment further.
The "conversion" of three schools to Barnfield academies has been put on hold during the investigation.
Speaking on condition of anonymity, three former Barnfield staff members told the BBC of the pressure put on colleagues by "senior members of the Federation" to get students to rewrite coursework.
'Students would cry'
"It was demanded of them to spoon-feed students to get the grades," said one.
"They'd take the students off timetable - for core subjects, in particular - and then spend a week making sure they rewrote it, rewrote it, rewrote, it until they achieved those grades."
Another said: "The young people with special needs felt extremely stressed by Barnfield. It caused a lot of emotional trauma for them.
"Some students, in particular, would cry. We had autistic boys who would rock a lot in the classroom because their targets were unrealistic. A lot of their mentoring was cut."
A department head said colleagues at other Barnfield-run schools had discussed the same concerns.
'Fit for future'
This week Barnfield founder Sir Peter Birkett, who left the federation in August, resigned from his new job as chief executive of international school operator GEMS.
He said he did not want the Barnfield probe, expected to conclude later this month, to become an "undue distraction".
Responding to the whistleblowers' claims, the group said in a statement: "The Barnfield Federation does not recognise the picture being painted by these accusations and strongly refutes these claims.
"Our students are our lifeblood and follow a personalised learning programme suited to their individual needs and aimed at developing rounded young people who will reach their potential, prepared for the world of work.
"The current investigation is not about education standards, it's about operational issues, and any lessons about how things were done in the past will be learned, implemented and adhered to.
"We are already in the process of making sure that Barnfield is fit for the future and not held back by its past."