Luton Airport expansion plan: QC to oversee application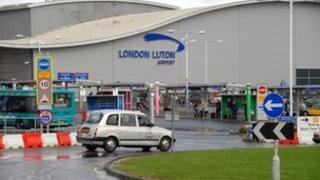 An independent barrister will oversee a planning application for an expansion of Luton Airport to ensure impartiality, the council has said.
The airport wants to increase capacity from 12m to 18m passengers a year.
Luton Borough Council backs the scheme, but recognises it faces opposition from Hertfordshire residents whose council requested the QC to ensure fairness.
London Luton Airport Ltd owns the airport infrastructure but all the shares belong to Luton Borough Council.
The council said it had appointed aviation planning specialist John Steele QC to conduct a full independent review of the expansion application.
'Hand it over'
However, a Luton council spokesman maintained that its role as the local planning authority was entirely separate from its one as Luton Airport shareholder.
But Hitchin and Harpenden MP Peter Lilley said the planning minister should take the decision out of Luton's hands.
The Conservative MP said: "The only way to ensure the process is, and is seen to be, independent is to hand it over to an independent body," he said.
"I have always maintained that Luton Council should not be making this decision as the council itself is the prime beneficiary from expansion of the airport.
"I hope that the legal review will come to the same conclusion."
The contract to run the airport was acquired by Spanish air giant AENA and investors Ardian on Wednesday after being sold by Abertis.