Veterans to boycott 'disrespectful' Milton Keynes Rose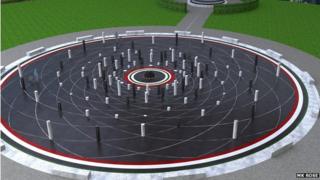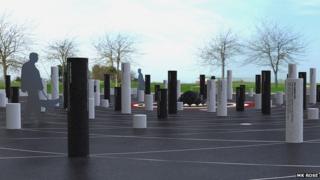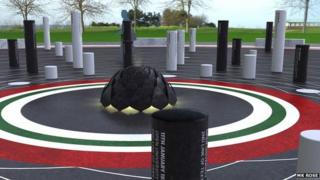 Royal British Legion veterans are planning to boycott a new Milton Keynes memorial on Armistice Day claiming it is "disrespectful to the dead".
The MK Rose will open next month as a "collective place of reflection".
But some are upset by pillars representing events as varied as International Joke Day and Tea Bag Day.
Jubilee branch chairman Ken Whiskerd said members would attend a "proper" memorial. The Cenotaph Trust's Gavin Anderson denied it was disrespectful.
The MK Rose has been developed over four years in Campbell Park and when completed will contain 140 pillars each representing an event, including Armistice Day, Hiroshima-Nagasaki Day and Holocaust Memorial Day.
But among the pillars people can also celebrate the Red Bull F1 team, Knit in Public Day, Skipping Day, Concrete Cow Inauguration Day and Wolverton Railway Town Day.
'Educational aspect'
"It is disrespectful to the dead. In the end it doesn't reflect anyone," said Mr Whiskerd, whose branch contains former commandos and SAS servicemen.
"If I asked my standard bearer to attend, I know he'd tell me where to put it.
"The best it can ever be is a garden of remembrance, but it's not somewhere where you'd dip your standards."
Mr Whiskerd said most of his 47 members would instead attend a service at a new memorial being built at Coffee Hall.
Mike Barry, chairman of the Royal British Legion for Buckinghamshire, said the Jubilee branch's opinions did not reflect that of the Legion as a whole, adding that the rose had a "deep educational aspect" and he would be talking to the branch about its views.
Mr Anderson from The Cenotaph Trust, which came up with the idea of the rose, said: "Because we are a new city there's nowhere people can naturally go to mark remembrance or celebration.
"Many years ago when the Queen Mother died people laid flowers outside Marks and Spencer.
"A group of us felt there was a need for somewhere where you could go to mark, commemorate, celebrate, irrelevant of faith, creed or colour."
Artist Gordon Young has yet to comment.