Bedfordshire PCC says police stations may close to save jobs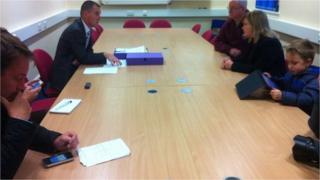 Officers could lose their jobs unless police stations in Bedfordshire close, the Police and Crime Commissioner (PCC) for Bedfordshire has said.
Olly Martin was replying to a 5,600-signature petition against the closure of a station in Leighton Buzzard.
A delegation headed by Amanda Dodwell, Mayor of Leighton-Linslade, met the PCC on Friday to hand over the petition.
Mr Martin said £7.5m must be cut from police budgets and closing rarely-used stations would save money and jobs.
No decision has yet been taken about Leighton Buzzard, but Mr Martin said he was sure there would be a permanent presence in the town.
"I am in discussions with Central Bedfordshire Council and the fire brigade about sharing premises as all of us are facing budget cuts.
"The current police station in Leighton Buzzard is only 20% used and the front desk only receives two or three visits a day - that is not a sustainable use of resources," he told the delegation.
Exaggerated figures
Mrs Dodwell said the delegation had put across a clear message to the PCC.
"We want police officers working out of a station that is open during office hours and with a sergeant who would get known by local people," she said.
"The problem is the police station has been closed and people have dropped away from handing in lost purses and reporting on crime in the town centre.
"We also want a place where people can have confidential conversations with police. A station in Tesco just would not do, she said.
Mr Martin said he was working on a plan but exaggerating crime figures to make a case was misleading and potentially damaging to the community.
"There are 44 crimes per year for every 1,000 people in Leighton Buzzard and that is comparable to other parts of Bedfordshire," he said.