Sharif Demirsay murder police make 'crucial evidence' plea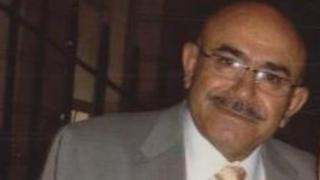 Detectives investigating the murder of a man found stabbed to death at his Bedfordshire home have made a new appeal three months on.
Serafettin Demirsay, 65, died after being attacked by three men who forced their way into his house in Vineyard Way, Kempston, on 14 May.
Police have offered a £10,000 reward and hope new witnesses may now come forward with "crucial evidence".
Three men, aged 17, 18 and 19, arrested on suspicion of murder remain on bail.
A fourth man, aged 24, arrested the day after the murder, was released from bail without further action.
'Horrendous crime'
Turkish-born Mr Demirsay, known locally as Sharif, was stabbed to death after answering the door at about 21:30 BST.
His 68-year-old partner tried to intervene before she was also injured.
Police are still searching for the murder weapons, believed to be kitchen knives, which may have been discarded in hedgerows or gardens by the killers as they left the scene.
The offenders stole about £1,000 and jewellery of sentimental value, described as "high-purity gold Asian-style" items including bangles, rings, earrings and necklaces.
None of the jewellery has been traced.
Two weeks ago, officers put up a £10,000 reward for information leading to the conviction of Mr Sharif's killers, and said since then, a member of the public had supplied "very useful information" about the case.
Det Ch Insp Tim Redfearn, said: "We are closing in on the people responsible for this horrendous crime.
"I remain very optimistic that, bit by bit, we are moving towards a successful conclusion.
"However, I'm convinced there are people in Kempston who know or have heard more, and just haven't realised how crucial their evidence can be in making sure the right individuals end up behind bars."