Hertfordshire PCC deputy: BBC man known to David Lloyd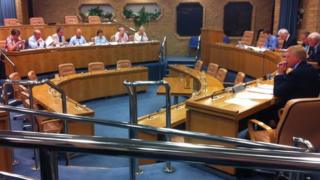 The Police and Crime Commissioner (PCC) for Hertfordshire has been forced to defend the appointment of a former BBC journalist as his new deputy.
David Lloyd was accused of "cronyism" by councillor Sharon Taylor because he lived in the same village of Flamstead as friend and new deputy David Gibson.
He assured the Police and Crime Panel Mr Gibson was "right for the job".
One member who opposed the move, Roger Seabourne, had already decided to step down and criticised the panel's role.
Ms Taylor had refused to endorse the appointment despite Mr Gibson's qualifications because it was an "unelected" post. But the panel voted eight to three in favour.
Mr Lloyd said he spent six months replacing Dr Rachel Frosh, who resigned in February over a Twitter message. She re-tweeted another user's post likening socialists to Nazis.
Mr Gibson had worked for the BBC in the UK and Washington, in local radio and network programmes like Today, PM and World at One.
Mr Lloyd told the panel meeting in Stevenage on Thursday he knew many of the 14 candidates who had applied for the post.
The recruitment had been an open process, he added, and Mr Gibson was the right person for the job.
MP's committee inquiry
"I know David Gibson well and he is a superb deputy and someone I can trust entirely," he said.
"He can hold people to account, gets into the issues and understands what the public wants."
In an interview with BBC 3CR, Mr Lloyd also revealed Mr Gibson applied for a communications manager post, which he did not get.
But he then denied he had created the deputy's job especially for him.
Ms Taylor, leader of Stevenage Borough Council, was one of the three who voted against Mr Gibson's appointment, with eight supporting it.
She had no reason to doubt Mr Gibson's character or integrity, she said, but suggested if anything happened to Mr Lloyd that "an unelected person would take over".
She added: "Hertfordshire is a very diverse county and the role of Police and Crime Commissioner appeared to be occupied by two people as alike as peas in a pod."
Mr Seabourne expressed the frustration of panel members and said he was stepping down.
He said he "didn't want to be associated with a body that is such a toothless, worthless, ineffectual, waste of time, money and space".