Bedford Hospital: Consultant suspended over 'failure to respond'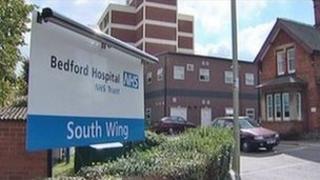 A consultant in Bedfordshire has been suspended for failing to respond to an urgent call from junior doctors, a hospital has confirmed.
Bedford Hospital said the incident prompted its decision to remove medical trainees from its paediatric services.
The Riverbank ward was already under scrutiny because trainees had complained about their supervision.
Acting chief executive Stephen Conroy said there would be "fewer services" on the site by the end of the month.
The Bedford Hospital NHS Trust manager said education and training at the paediatric unit "reached a crisis point" in April when some trainees raised concerns that consultants left them on their own to make patient decisions.
Action plan
He said it was more the quality of the supervision and training, rather than consultant numbers, that had been of concern.
As a result, an action plan was put in place from 1 May.
"The deanery required that we had a [certain] number of hours of consultant presence and the medical director was on call," said Mr Conroy.
"It looked as though that was all working and we were going to maintain the trainees from September.
"Unfortunately, two weeks ago, one of our consultants failed to respond on the telephone to an urgent call out, and respond to trainees' requirements for advice."
Change needed
He confirmed that although in that case, no patient had come to harm, the consultant had been excluded and an investigation was under way.
Mr Conroy said the hospital was ""not closing anything at the moment" but, in the short term, the paediatric unit will have to change.
"[There will be changes] to some of the planned elective and emergency work," he said.
"There will be fewer services on this site by the end of July."
A statement about the unit's future will be released by the end of Monday, he added.
Bedford mayor Dave Hodgson said "clarity" about the situation was needed.
"I would like assurances that young people are going to be looked after safely and securely and we are going to keep all the services in Bedford," he said.
"We also need an inquiry about how we got to this position."