Woman's ankles broken in Milton Keynes bus drama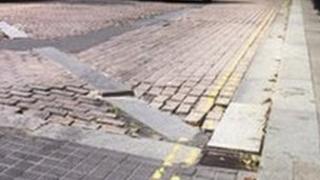 A woman suffered two broken ankles when a concrete road slab sliced through the bottom of a bus in a freak accident.
It happened in Milton Keynes as a loose road-section lifted up, went through the bus floor and struck the 60-year-old woman's legs.
Bus operator Arriva said it may have happened when the bus's front wheels went over a stone.
The council said it had made urgent repairs to the stretch of road and a "full permanent" fix was planned.
'Nothing like it'
The vehicle had been turning into Lower Ninth Street going towards Midsummer Boulevard on 29 June. The incident was made public by the Milton Keynes Bus User Group.
Spokesman Peter Ballantyne said: "It was one of these freak accidents that can occur, but it could have been avoided."
Mr Ballantyne said he had been asking the council to look at the quality of the road surfaces in the area for 18 months.
Arriva said it had "never heard of anything like this happening before".
Milton Keynes Council said it was "shocked and saddened" at the "very unfortunate incident".
Councillor John Bint said: "[I offer] deep sympathies to the lady in question. Clearly sometimes accidents happen and can't be prevented."