Welwyn and Hatfield council homes face flag ban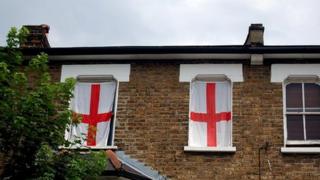 Flags and banners in council tenants' windows could be banned because they "sully" the area, a Hertfordshire housing group says.
Welwyn and Hatfield Community Housing Trust said its new tenancy agreements may include the policy as flags could be "intimidating".
It said permission could be given when there were national celebrations or a sporting occasions.
Welwyn Hatfield councillor Kieran Thorpe said it was "absolute nonsense".
Trust spokeswoman Simone Russell said: "There are properties that have big flags hanging outside and while we encourage it during events such as the Jubilee; at other times it sullies the look of the area," she said.
"Flags can be intimidating and can create a negative feeling."
She revealed the policy would say "tenants must not hang or fix signs, banners or flags on the outside of the property, outside windows or on balconies, without our permission".
It means residents can ask to hang a flag up for special occasions.
'Absolute nonsense'
Labour councillor for Hatfield South, Mr Thorpe, said he hoped it was merely a "tightening up of the wording" and he would be "disappointed" if the action was actually taken.
"To say that flags are intimidating is absolute nonsense, they provide colour and vibrancy to an area," he said.
"I think it would only be in extreme cases that they would consider taking action."
Welwyn Hatfield Council said the trust would adopt a "common-sense approach" and not enforce the rule on temporary items.
A statement said the clause could be used if flags and other items had been put up on a long term basis or were causing a nuisance to others.
"The trust will be able to refer to this tenancy condition in any action being taken to ensure the items are removed," it said.
A preliminary notice of the proposal was sent to tenants in June and a consultation period closes on 12 July.
As required by law, residents will be sent a copy of the new agreement in August which will be implemented in early October.