Hemel Hempstead grandmother auctions gallstones on eBay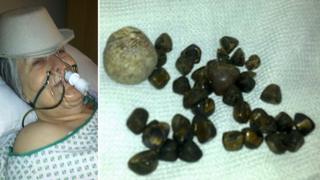 A Hertfordshire woman who said she sold her gallstones on internet auction site eBay, claims she has sold them to a "well-known historic building".
Anita Crawley, 66, from Hemel Hempstead, had 42 gallstones removed during surgery two years ago.
She said she put them up for sale "as a bit of a joke", but said they sold as one lot for her starting bid of 99p.
An eBay spokesman said the sale of "human items" was banned on the site and it would remove any it identified.
'A bit gory'
Mrs Crawley said when she rediscovered the stones, she first thought about making them into "a nice necklace".
"The smallest ones look like beads and are about the size of a fingernail," she said.
"But it's a bit gory trying to thread the cotton through something that has come out of your body and I would have felt unhappy if they had split."
The grandmother, who admits she is a bit "off the wall", thought she would see if they would sell instead.
"I didn't want to lose them again, so I thought I'd see if anybody was as mad as me and try to buy them," she said.
Now they have sold, she revealed she would be giving the money to her local church charity and "add some more".
Mrs Crawley would not reveal exactly who had bought them, only saying they were going to "a well-known national historic building in London where they have exhibitions".
"The person who bought them buys things that have been extracted from the body and old medical equipment," she said.
"They said when they saw them they had to have them."
'Whatever drops'
Mrs Crawley has yet to decide what else she is going to auction.
"I'm just wondering which bit will drop off next," she said.
"My eyes aren't very good but I'm not sure anybody will want them."
A spokesman for eBay said: "The sale of any human item is banned on eBay.
"We proactively search for these products and take down items reported by our users.
"Whenever an item is identified, it will be removed."