Confidential Hertfordshire County Council papers 'found in street'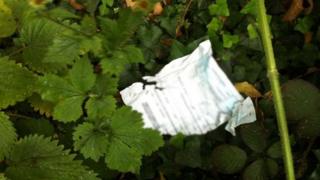 A council has apologised after papers holding personal staff details were found discarded in a street.
Liberal Democrat councillor Paul Zukowskyj said he saw Hertfordshire County Council documents outside a former adult care office in Hatfield.
Derrick Ashley, cabinet member for resources, said the council apologised and would investigate how it happened.
Mr Zukowskyj said he had yet to decide whether to report the potential data breach to the Information Commissioner.
Mr Zukowskyj said he spotted the documents near the former Mount Pleasant depot, which was vacated by the council in 2009 and is in the process of being demolished.
"There was a range of things - blank care assessment forms, compliment slips with HCC [Hertfordshire County Council] logos and directors' names on," said Mr Zukowskyj.
'Removal and disposal'
"The final one that tipped the issue was a staff appraisal form front sheet with a staff member's name, personnel number and so on.
"I'm not happy."
The Conservative-controlled council was fined £100,000 by the Information Commissioner in 2010 for accidentally faxing details of a child sex abuse case to a member of the public.
Last year, it also received a warning from the commissioner after losing a folder containing details of primary school visits in 2011.
Mr Ashley, a Conservative, said: "In 2009, as part of the move from the site, we made arrangements for the removal and disposal of all our operational assets as part of standard site closure procedures.
"We apologise that in this instance it would appear that not all of this work was successfully carried out. We are investigating how this happened to ensure that it does not happen again."
The council said litter-pickers were removing the remaining papers from the area.
An spokesman for the Information Commissioner said: "We would normally investigate if there was a complaint made to us, though if we see stories particularly pointing to a breach we may contact the authority directly."