Hertfordshire Hitler-tweet deputy PCC's successor sought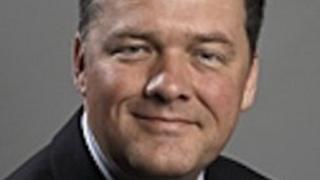 A police and crime commissioner is advertising for a new deputy after the previous holder of the post resigned over a Twitter post about Hitler.
Conservative Dr Rachel Frosh stood down as Hertfordshire's deputy PCC in February after sharing a tweet likening socialists to Nazis.
The new deputy, who will report to PCC David Lloyd, is expected to earn up to £50,000 a year.
Mr Lloyd, a Conservative, said he was looking for an "exceptional candidate".
Dr Frosh, who earned £20,000 a year for a two-day week, resigned after re-tweeting a post from another user that read: "Dear #Socialists, embrace your inner #Nazism."
'Sensitive political environments'
Dr Frosh, an NHS consultant and a Tory member of Harpenden Town Council, said she recognised she was "not able to fully comment on some political issues" while in the post.
She said she did not endorse the original tweet and did not consider Labour or socialists to be Nazis.
Her successor will need a "sound understanding of complex, sensitive political environments", according to the job description.
They will also need senior management-level experience and experience of working in the public eye.
Mr Lloyd said: "Being police and crime commissioner is an honour and a pleasure, but also a really substantial role.
"With a county of more than a million residents to represent, a budget in excess of £200m to manage prudently and an ambitious plan in place, I am looking for an exceptional candidate to help me deliver for Hertfordshire."
The hours and the salary for the post have not been specified.
A spokeswoman for Mr Lloyd said the salary would depend on the successful candidate's skills and experience, but was likely to be about £50,000.
Part-time working, with pay adjusted accordingly, would be considered, she said.