Shefford Catholic boys' home abused urged to tell police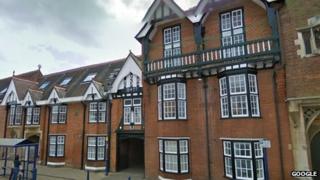 A former resident of a Catholic orphanage at the centre of historic child abuse allegations has waived his right to anonymity to urge others to contact the police.
Tony Walsh, 65, was sent to St Francis Boys Home in Shefford, Bedfordshire, in the 1950s.
He says he was sexually abused by Father John Ryan at the home.
His allegations led to the priest's arrest in 2003 but he was released without charge and died in 2008.
Mr Walsh, who was born in Bury St Edmunds, Suffolk, is the third man to inform the BBC he was sexually and physically abused by Father Ryan.
'Still shaking'
The BBC has also talked to a number of former residents who were physically abused during the 1950s and 60s.
Mr Walsh welcomed the new investigation into abuse at the home which has been started by Bedfordshire Police.
He said he felt "let down by police" after Fr Ryan was not prosecuted following the 2003 investigation.
Mr Walsh said the priest sexually abused him "lots of times" and believed it was important the physical and sexual abuse "is made really public".
"I am still shaking when I talk about it. It was horrendous," he said.
Another man, now in his 50s and who cannot named for legal reasons, told the BBC in May: "Father Ryan abused me. He used to get me up to his office. Then he turned round and said 'If you let me fondle you, I won't hit you'.
"It took place every six months. I was a pet. He ruined those years. It was terrible."
'Like Oliver Twist'
Another former resident of the home, who now lives in Woolwich, south London, said: "The home was the personification of hell. He [Father Ryan] was an evil man."
He said the priest touched him in a sexual manner and sexually abused him repeatedly, as well as administering beatings.
Bedfordshire Police said its safeguarding unit was keen to hear from anyone about any possible offences at the St Francis Boys Home, which closed in 1974.
The BBC has also learned of a large number of cases of alleged physical abuse by the same priest.
Willy O'Brien, 63, who now lives in El Paso, Texas, has said he hoped the new police investigation would have more success than the inquiry 10 years ago.
"The orphanage was like in Oliver Twist. I was beaten until I bled," he said.
A spokesman for the Northamptonshire Diocese of the Catholic Church, which ran the home, said it "deeply regrets" any hurt caused, but stressed the "claims are not proven".