Luton bus adverts call for action against gun crime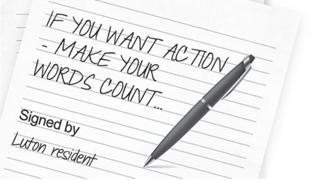 A fleet of buses is being used in a Bedfordshire town's fight against gangs and gun crime, police say.
Adverts calling for the public to "make a statement" against the crimes have been put on the sides of the vehicles and billboards in Luton.
There have been 10 shootings in the town this year and 36 arrests for gun-related incidents since March.
Police said it hoped the adverts, which cost £13,000, would encourage people to come forward with information.
The poster campaign, funded jointly by Bedfordshire Police and the county's Police and Crime Commissioner, Olly Martins, appeared on Tuesday and will run until 23 June.
The adverts contain the message "Bedfordshire Police is making a statement about gun crime - are you? If you want action, make your words count".
'Worrying increase'
Chief Superintendent Mark Turner said there had been "an unusual and worrying increase" in gun crime in the town since the murder of Paul Foster in April.
"The public have come forward with information, which has been extremely helpful. However, we are now asking them to dig even deeper and take it to the next level by putting pen to paper," he said.
Police said a £1,000 reward is available to anyone who can provide information that leads to an arrest and conviction of people for gun crimes in the county, with an additional £1,000 from Crimestoppers.