Kempston murder inquiry: Motive 'not solely robbery'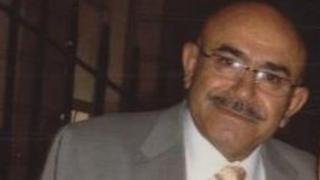 The motive for an attack on a man stabbed to death in his Bedfordshire home may not have been "solely robbery", police say.
Turkish-born Serafettin Demirsay, 65, was killed in Vineyard Way, Kempston, on 14 May after three men forced their way in.
The offenders stole about £1,000 and jewellery of sentimental value.
A police spokesman said: "I am not convinced this was the reason for this attack."
Det Chief Insp Tim Redfearn added: "The level of violence that was used by these people to relieve this elderly couple of [those items] just seems disproportionate to that and I can't believe that's solely the motive."
'Open mind'
Mr Demirsay, known locally as Sharif, was stabbed after answering a knock at the door.
His 68-year-old partner, who had lived with him for more than 20 years, tried to stop the attack before being hurt herself.
She was threatened and stabbed in the arm.
Mr Redfearn said he still had "an open mind" about the motive.
"The more we hear about Sharif, it's clear that he was a much loved family man, a man who did not have any apparent enemies," he said.
"It seems likely he was targeted for a purpose, although what that purpose was, is not yet obvious."
Mr Demirsay's granddaughter, Nina Gill, said he was "a truly adored man" who had been taken from the family in "the worst way possible".
"This has devastated everybody and taken a huge part of our hearts away," she said.
A man, 24, arrested on suspicion of murder has been released on bail.
Officers want to speak to anyone who saw three men approaching the house on 14 May or who has seen anyone with the jewellery.