Photo-fits released after Luton shooting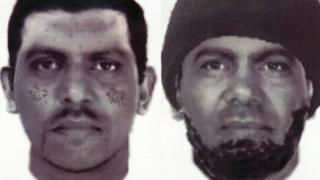 Two photo-fit images of a man police want to trace in connection with a shooting in Luton have been released.
The images are of a man believed to be responsible for the shooting of a 27-year-old man in Leicester Road, at its junction with Dunstable Road, on 20 May at 07:58 BST.
The victim remains in hospital undergoing extensive surgery to his leg.
He is described as being in a serious but stable condition.
The offender has been described as a man with a tanned complexion, about 6ft (1.8m) tall, with a dark, greying beard and carrying a yellow JD sports bag that contained the firearm.
Det Insp Iain Morgan, of the serious crime unit - based at Luton Police Station, said: "These are not photographs of the offender but E-Fit pictures which have been created based on information from eye witnesses.
"We would encourage everyone to have a close look at these images and compare the similar facial features within the two and if anyone can help identify the man responsible for this shooting I would urge them to contact the police immediately."
Police said a £1,000 reward is available to anyone who can provide information that leads to an arrest and conviction of people for gun crimes in the county.