Delaney Brown grandfather: 'Help our young people'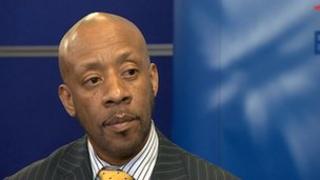 The grandfather of a Luton teenager murdered by a rival gang member has asked the community to come together to stop similar incidents happening again.
Delaney Brown, 19, was killed in September when Kyle Beckford, 22, knocked him off his bicycle while driving a stolen BMW.
It was revealed in court the crash had been part of an ongoing dispute between gangs in the town.
Delaney Brown Senior said people must not stand for "lawlessness" in Luton.
"We urge members of the community to work with the police and not allow criminals to feel they can go round causing serious harm without facing the consequences," he said.
"A message has been sent out, that as a community we won't tolerate [it]".
Beckford was found guilty of murder on Wednesday and will serve a minimum of 24 years in jail.
'Wonderful community'
Mr Brown Senior appealed for people to support those who work to help young people to change their lives.
"There are community groups working in Luton with young people who need support from all sorts of organisations," he said.
"Please help them to help our young people. We need to come together to show that we will not stand for lawlessness on the streets of Luton.
"More work has to be done, working with the police, working with community leaders and working with young men who potentially can change other young men, to show that this can be a wonderful community if we work together."
Heightened presence
During Beckford's trial, the court heard he was a member of the Marsh Farm Gang which was in conflict with the Lewsey Farm gang of which Mr Brown was a member.
His conviction came days after Bedfordshire Police stepped up their presence on both estates in the wake of a recent spate of shootings.
This year, there have been 16 gun-related incidents in the town, nine of which have been shootings.
Four extra armed response units are patrolling who have the power to stop and search for weapons.
Officers said in the past week, there have been 11 arrests in relation to firearms offences and two weapons recovered.
Assistant Chief Constable Andrew Richer said officers believed a "considerable percentage" of the gun crime was associated with a group of about 30 offenders in two groups based in the two estates.
"While the exact links between the different incidents are quite complex, we believe it's that core of offenders we need to focus on," he said.