Ear found at St Mary's Church in Aylesbury 'not human'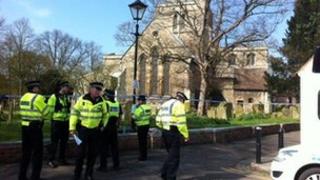 A body part found in a graveyard which was thought to be human was a pig's ear, police said.
Thames Valley Police launched an investigation after the ear was discovered by a dog walker in the grounds of St Mary's Church, St Mary's Square, Aylesbury, in April.
The man said "close inspection" led him to believe it was "definitely a human ear".
Police said forensic examination found it was a pig's ear.
Ben Jackson-Smith was in the grounds of St Mary the Virgin Church on 24 April when he saw the dog he was walking "biting something".
Police set up a cordon at the scene but said they did not find any other evidence.
The ear was sent to a Home Office pathologist to be analysed.