Luton Marsh Farm shooting: Boy 'did not know attacker'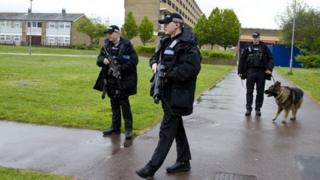 A 16-year-old boy shot in the back on a Luton estate has told police he did not know who attacked him, or why.
The boy suffered a bullet wound shortly before 04:00 BST in Thricknells Close, Marsh Farm, on Sunday.
Police said on Monday that he may never walk again.
Armed officers are patrolling Marsh Farm and Lewsey Farm estates and said they would stop and search for weapons. There have been nine shootings in Luton in the past four months.
In the most serious incident, Paul Foster, 46, was shot dead in Lewsey Farm on 9 April.
The latest victim is said to be stable in hospital.
He has been able to give "quite scant" information to police but said his attacker was wearing a mask, BBC Look East Home Affairs correspondent Sally Chidzoy said.
Police are seeking to reassure the public and want to show that they are out "in force" to "get a grip on Luton", she added.