Luton council bus driver 'forgot woman with dementia'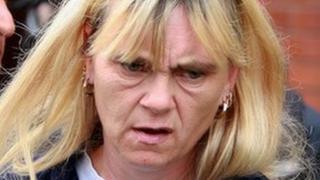 A council worker left a woman with dementia on a minibus for more than 14 hours overnight, a jury has heard.
Susan McLaughlin, 43, forgot 88-year old Joan Cook was on board when she parked at a depot in Luton in April last year, the town's crown court heard.
A calm Mrs Cook was found the next morning.
Ms McLaughlin, of Brunel Road, Luton, denies neglect, contrary to Section 44 of the Mental Capacity Act 2005.
The court heard Mrs Cook and another woman had been collected from the Hockwell Ring Day Centre and should have been dropped off at her sheltered flat at the Jill Jenkins Court Care Home in Farley Hill.
The other woman was dropped off at a separate home by Ms McLaughlin, who then drove straight to the depot in Kingsway, the court was told.
Care home 'unaware'
Laura Blackband, prosecuting, said: "Mrs Cook was left in the van.
"She had no food, no water, no heating, no light and no toilet and no mobile phone."
Ms McLaughlin finished paperwork in the van, then went into the depot building, wrapped a present for a colleague and went home, Ms Blackband said.
Mrs Cook was left at 16:45 BST and was not discovered until 07:15 the next day, when she was seen calmly sitting in the same seat as earlier.
The jury heard her care home had not noticed she was missing.
'Clear neglect case'
Ms Blackband said: "It is not a huge vehicle.
"Mrs Cook was on the second row by the window, behind the driver.
"Quite why Susan McLaughlin failed to observe Mrs Cook one can only imagine.
"It is a clear case of neglect."
Ms McLaughlin, who had worked for Luton Borough Council since 2007, was said to be "dazed, shocked and upset" when told what had happened and drove Mrs Cook home.
She told officers she felt partly responsible when she was arrested on 10 May, the court heard.
The trial continues.