Bedford street stabbing: 'Jealous man killed wife'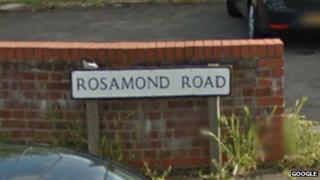 An estranged husband murdered his wife in the street after she started a new relationship, a jury has been told.
Afsana Kosser was repeatedly stabbed near her Bedford home by Sajid Mahmood the day after they had been to court over their children.
Prosecutor Ian Wade QC told Luton Crown Court a "jealous" Mr Mahmood, of Bedford, feared his wife would "take his house and children".
Mr Mahmood, 52, has admitted manslaughter but denied murder.
Mr Wade said "a powerful emotion of jealousy was working away at Sajid", who he said waited in his car for Ms Kosser to leave her house in Rosamond Road to walk to work on 11 April last year.
'Confessed to police'
He said when she reached a neighbouring street, he launched a "ferocious attack", stabbing her 24 times in the chest and neck.
The jury was played his subsequent 999 call to police in which he said "I have just killed my wife".
Mr Mahmood, a Northampton bus driver, of Sandy Road, then phoned members of his family to tell them what he had done, the court heard.
The prosecutor went on: "He says he did not murder her because he says he had lost his self-control, but the prosecution say there was no loss of control. It was murder."
He added if the jury decided any "sexual infidelity" had played a part in the case then it was still "not an excuse under law".
'Out for revenge'
The couple's relationship broke down in May 2011 and Ms Kosser obtained an injunction which entitled her to be the sole occupant of the family home, Mr Wade said.
Mr Mahmood allegedly bought a knife from Sainsbury's more than a week before the killing and on the day told work that he was not coming in.
Mr Wade said: "What Mr Mahmood did was pre-meditated, calculated and planned.
"It didn't happen in the heat of the moment.
"We say he was out for revenge. He decided days before she was going to die."
The trial continues.