Golf break pair 'demanded hotel sex act'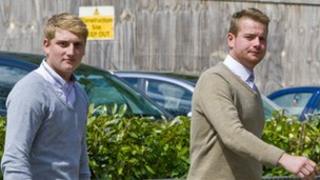 A hotel worker was trapped in a room by two men, one of whom demanded she perform a sex act, a court has heard.
The woman told the jury she was collecting room service trays from a corridor when she was pulled into a bedroom at the Hertfordshire hotel.
She escaped when there was a knock on the door, St Albans Crown Court heard.
Billy Millar, 23, and Liam Skinner, 21, who were on a golfing holiday at the hotel, pleaded not guilty to falsely imprisoning the woman last July.
Mr Millar, of Mill Road, West Mersea, and Mr Skinner of High Street North, Colchester, also deny a second charge of committing an offence with the intention of committing a sexual offence.
'Pushing and pulling'
Prosecutor Isobel Delamere said the men were part of a group who became quite "rowdy" after dinner and were flirting with waitresses.
The alleged victim told the jury that after dinner she had to go to the corridors outside rooms to retrieve any room service trays left outside doors.
She said she saw the two defendants outside their room and as she went past Mr Millar asked her to go inside.
She refused, but Mr Millar took hold of her wrists and by "pushing and pulling" got her into the room, she said.
As she tried to push past him Mr Millar pushed her, causing her to fall to the floor. She told the jury he then demanded she perform a sex act on him while his friend stood by the door.
"I had started to feel quite nervous, panicky," she said.
Cross-examined by Samantha Giffin for Mr Millar, the woman denied going into the room willingly.
The case continues.