Luton teenager shot on Marsh Farm estate 'may not walk again'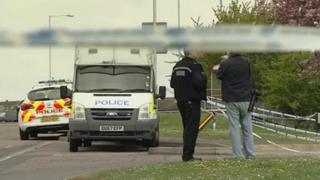 The teenage victim of Luton's ninth shooting this year may not walk again, says a senior police officer.
Assistant Chief Constable Andrew Richer said it was possible the 16-year-old would lose use of his legs.
The boy suffered a bullet wound shortly before 04:00 BST in Thricknells Close, Marsh Farm, on Sunday.
The officer said there had been a "robust response" to an "elevated threat" but said it was not time to arm all the town's police.
There have been 16 gun-related incidents in the town this year, nine of which have been shootings.
The latest victim is said to be stable in hospital after what police called a targeted attack.
Mr Richer said: "He is in a serious but stable condition at the moment, but it does appear likely that he has sustained life-changing injuries.
"This last shooting clearly has elevated the threat and we have put a very robust response into it."
'Heavy armed presence'
Patrols will be doubled and stop and search powers will be used to ensure public safety.
A £1,000 reward has been offered for information leading to an arrest and conviction, and armed patrols in the area have been stepped up.
"We have more than doubled our footprint on the ground," said Mr Richer.
"We don't think [the situation] is getting totally out of hand but we are escalating our response in proportion to the threat which clearly we are concerned is increasing."
He added the force already had "sufficient armed officers" to deal with the threat.
"We have got a very heavy armed presence on the west side of Luton at the moment but there is not a case at the moment for arming every officer," he said.
"I have no doubt that in due course we will successfully target the small number of offenders who are responsible for this and we will see a decrease in the number of discharges of firearms."