Luton teenager shot in the back on Marsh Farm estate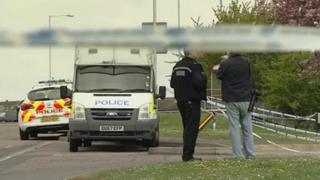 A teenager is in a serious condition in hospital after being shot in the back in Luton in a "targeted" attack - the ninth shooting in the town this year.
The 16-year-old boy suffered the bullet wound shortly before 04:00 BST in Thricknells Close, Marsh Farm.
He was taken to hospital where he is in a serious but stable condition.
Police have offered a £1,000 reward for information leading to an arrest and conviction, and are stepping up armed patrols in the area.
Patrols will be doubled and will be using stop and search powers to ensure public safety.
'Gun crime increase'
Assistant Chief Constable Andrew Richer said: "We understand that there will be a number of law abiding citizens who will be affected by this action.
"However, we hope that they will understand that this action is being taken to keep them and their loved ones safe and they will agree with us that this level of criminality will not be tolerated.
"These measures are being used to ensure those who commit these crimes are stopped so we would ask the public for their forbearance."
Assistant Chief Constable Richer said: "Since January we have seen an escalation in gun crime in the town and this issue remains a top priority for the force. Over the last few weeks numerous warrants have been executed and 11 people arrested in connection with ongoing drugs and firearms inquiries.
'Targeted incident'
"There have also been two firearms and ammunition recovered."
A man was seen leaving the area at the time the shooting happened and he is described as white, in his mid-teens, wearing a blue top and blue jeans, police said.
Det Insp Sean Quinn said: "We are in the early stages of this investigation and are piecing together exactly what happened.
"However, we believe this was a targeted incident and we would urge anyone who has information about this shooting or anyone who can help identify the person seen leaving the scene to contact the police immediately.
"They can do this in complete confidence and we can reassure them that any information given will be used confidentially."