Delaney Brown death: Accused wanted to 'scare' teen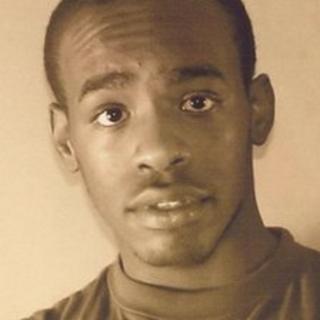 A BMW driver accused of murder after running over a man on a bicycle had not wanted to "seriously harm him", a court has heard.
Kyle Beckford, 22, of Waleys Close, in Luton, rejected suggestions he was "hunting" 19-year-old Delaney Brown but said he wanted to "scare him".
Mr Brown died in September after being knocked off his bicycle in Vincent Road, Luton.
Mr Beckford, who admits manslaughter, denies murder at Luton Crown Court.
He told jurors he had suspected Mr Brown could have been involved in an attack weeks earlier.
The court heard Mr Beckford's cousin had been beaten up.
Asked how his car came to strike the rear of Mr Brown's bicycle, sending the teenager flying through the air, Mr Beckford said: "I just wanted to scare him because of what had happened with my cousin.
"He was involved and he was telling me he wasn't. I didn't want to kill him or seriously harm him. He was my friend."
Gang 'hostility'
The court has heard Mr Beckford was behind the wheel of a stolen silver BMW.
There were three other young men in the car and another was riding a moped.
The jury had heard how as teenage schoolboys Mr Beckford and Mr Brown had been friends.
But the prosecution claim they had drifted into rival gangs in Luton.
In their home town of Luton, Mr Brown was a member of the "Lewsey Farm" gang sometimes known as "The Trap Gang".
Mr Beckford was said in court to have been a member of the "Marsh Farm Gang".
Jurors were told of the "substantial hostility" between the gangs.
The trial continues.