Luton-Dunstable guided busway delayed and over budget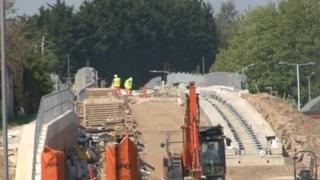 A guided busway in Bedfordshire will be over budget and open about five months late, it has been confirmed.
The Conservatives said the overspend could reach £9m for the mainly guided route along a stretch of old railway line from Luton to Dunstable .
Its backers claim the eight-mile (13.4km) route will become the world's largest urban busway.
Labour councillor Dave Taylor, from Luton Borough Council, said the scheme had been hit by weather problems.
The project was originally estimated to cost £89.2m, funded by an £80.2m government grant, and due to open by the end of April.
It is now not expected to take its first passengers until the end of the summer.
Mr Taylor, from the Labour-controlled council, said he could not accurately say how much the project had gone over budget.
He said: "It could be between £5m and £9m - you can not be definitive at the moment.
"We've got finance officers who are poring over the figures on a daily basis to see what the costs are."
Mike Garrett, Conservative group leader on Luton Borough Council, said he had been told by a council officer that the project has gone well over budget.
Mr Garrett said: "He told me it could be as much as between £5m and £9m plus the annual expenditure for maintenance, that's going to be between £200,000 and £300,000 a year.
"The council is short of money, we're cutting down libraries, we're cutting down subsidies towards buses for children going to school and we're spending vast sums of money on projects that the town doesn't want."
Luton Borough Council and Central Bedfordshire Council are making a joint contribution to the busway.
The route will span residential areas in Dunstable, Houghton Regis and the west of Luton, providing connections between the three town centres, Luton Airport Parkway station and the airport.
Mr Taylor said the shortfall would come from money paid by developers for projects.
He said: "It is late because there have been particular problems with the weather and with a major project there always is additional work.
"But we are not in competition with anybody and I think the busway will be worth waiting for."
Construction by civil engineers BAM Nuttall should be finished in June but bus drivers will need training on the route before it can open.
"Hopefully it will open to passengers in early September in time for the schools to go back," said Mr Taylor.