Luton police officer defends force's gun crime record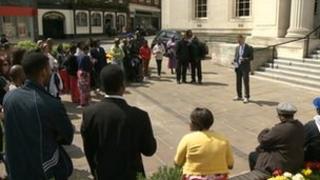 A senior Bedfordshire police officer has defended the force's efforts to tackle gun crime in Luton.
Earlier a shot was fired in an attempted robbery at the Premier News shop in Kirby Drive.
This was the fourteenth gun-related incident in the town so far this year, three of which resulted in deaths.
Chief Supt Mark Turner said they involved "a very small minority of hardened criminals" and police were "constantly acting off intelligence".
'Front foot'
A handgun was used during the attempted robbery at about 07:15 GMT, but the two men involved fled empty handed.
Meanwhile, police sealed off Culverhouse Road on Sunday night after a man on a motorbike shot at a black BMW. The car driver was uninjured.
The incident occurred hours after a peace rally was held in the town in response to the number of stabbings and shootings.
Chief Supt Turner said Bedfordshire Police had deployed more officers on Luton's streets.
He added: "What we have is a very, very small minority of hardened criminals who will use guns in furtherment of that criminality.
"We are constantly acting off intelligence.
"We are constantly making arrests, we're carrying out warrants [and] going into people's houses where we get the information to do that - so we are on the front foot about this."
He also denied that Luton had a worse gang problem than other towns of a similar size.
He added: "If we have one gun crime, it's one too many, but there must be a sense of proportion into all of this and people must come forward and help us."