Luton shooting hours after peace rally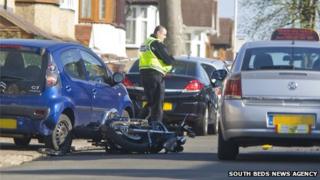 Police are investigating another shooting in Luton just hours after a peace rally was held to try to end violence in the town.
Community leaders held a rally outside the town hall on Sunday in reaction to a spate of stabbings and shootings.
Police also sealed off Culverhouse Road on Sunday night after a man on a motorbike shot at a black BMW. The car driver was uninjured.
Bedfordshire Police have appealed for witnesses to come forward.
The force said the BMW driver chased the motorcyclist after he was shot at. The motorcyclist, in his haste to get away, collided with two other cars and came off his bike.
He ran off, and police think he was picked up by an accomplice in a car.
Roads were closed at the junction of Fountains Road, New Bedford Road and Culverhouse Road while forensic examinations were carried out.
There have been 13 gun-related incidents in the town in 2013, and three fatalities since last September.