Milton Keynes mayor's official car stolen from drive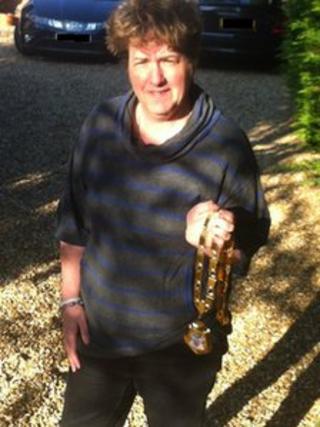 A mayor's chauffeur-driven car was stolen from her house while its driver helped her put on her official chain.
Catriona Morris, mayor of Milton Keynes, said she "thought she was going mad" after the Mercedes was stolen on Thursday morning.
She was preparing to go to MK Stadium for the announcement it had been chosen for the Rugby World Cup.
"We turned round, walked back up the drive again and there was an empty space," she said.
The car, which is owned and operated by a taxi firm, was taken from the end of her drive at about 10:00 BST.
Thames Valley Police are investigating the incident.
'Reversed at speed'
Ms Morris said the driver parked the Mercedes C class, which does not have any mayoral flags on it, at the end of her drive in London Road, "as he always does".
"He walked down the drive and helped me put my chains on which took about a minute in total," she explained.
She said the driver had not seen anybody else around when he left it.
"We thought we were going mad," she added.
"Then some builders, who were working on a house a few doors up, came out and assured us we weren't and that actually somebody had pinched it.
"It had reversed at speed out of the village and nearly took them out."
Ms Morris, who has two weeks left in office, said the car was not used exclusively by her and did other things around the town.
"I suspect the car has been watched, I am not sure there are lots [of them] around," she added.