Hertfordshire election: Conservatives retain council control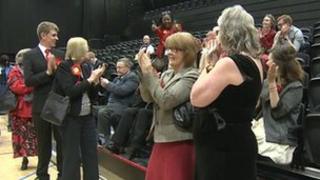 The Conservative Party has retained control of Hertfordshire County Council, with the Labour Party making gains.
The Tories won 46 of the 77 divisions and with the Liberal Democrats taking 16 seats.
Labour matched its 2005 tally with 14 seats, including taking eight divisions from Conservatives and two from the Lib Dems.
UKIP did not gain a seat, but polled about 19% of the vote.
The Green Party and English Democrat party, which had held a seat each, lost both to Labour.
Turnout was 28.9%.
The Labour Party gained seats from the Conservatives in Borehamwood North, Hitchin North, Letchworth North West, Broadwater, Old Stevenage, St Nicholas, Hatfield North and Welwyn Garden City South.
The two seats it took from the Liberal Democrats were St Albans North and The Colneys.
The Liberal Democrats gained Hatfield South from the Conservatives, where the cabinet member for roads, Stuart Pile, lost his seat to Paul Zukowskyj.
UKIP polled about 19% of the vote and in East Hertfordshire won 27% of the vote over the 10 seats where it put up a candidate.
Before Thursday's vote, the Conservatives had 55 seats, the Liberal Democrats had 17 and Labour three. The Green Party and an Independent held one seat each.