Endangered penguin chicks hand-reared at Whipsnade Zoo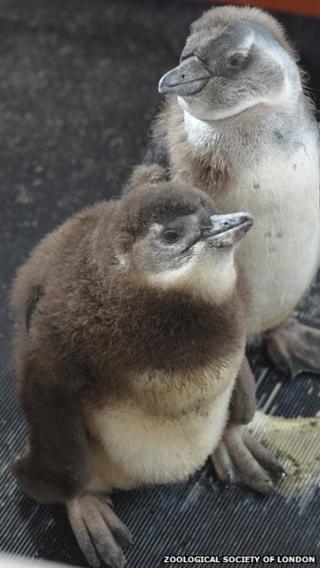 Two endangered penguins are being looked after at a Bedfordshire zoo after being abandoned by their parents.
The three-month-old African black-footed penguins, named Bamm-Bamm and Pebbles, are being hand-reared at Whipsnade Zoo.
The species, native to South Africa and Namibia, is classified as endangered on the International Union for Conservation of Nature (IUCN) Red List.
When mature, the pair will join the zoo's European breeding programme.
It is not yet clear whether the penguins are male or female, keeper Mairee Vincent said.
They were abandoned by their parents at eight-weeks old and are being hand-fed small portions of fish twice a day and weighed to monitor their progress.
Ms Vincent said: "It's incredibly rewarding to see how far the chicks have come in the last month.
"They're really beginning to thrive. Both are beginning to lose their fluffy grey feathers, with one of them [Bamm-Bamm] is currently sporting a very fetching Mohawk.
"As they grow up and get their first waterproof coating, they'll move into the zoo's penguin training pool, where they'll learn to swim and feed in the water. It will be a big step for them and will really help to build their confidence."
The IUCN estimates there are about 75,000 black-footed penguins (Spheniscus demersus) in the wild and numbers are declining, probably as a result of commercial fishing.