Prisoner Lee Foye loses jail murder conviction appeal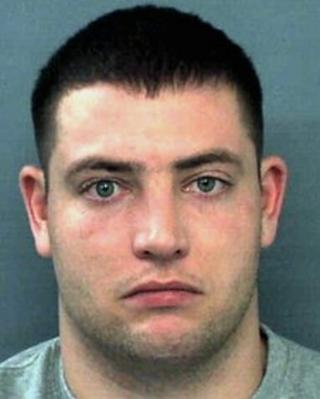 An inmate jailed for life after beating a sex offender to death in prison has lost his appeal against the conviction.
Lee Foye was sentenced in November 2011 for the murder of Robert Coello, 44, while already serving life at HM Prison Grendon in Buckinghamshire for killing Corby girl, Lauren Strachan, 19.
Foye, who has cut off both his ears, was ordered to serve at least 35 years.
The Court of Appeal threw out his claim he should have faced a manslaughter trial and a bid to reduce his sentence.
At his 2011 trial, Luton Crown Court was told Foye, then 26, stamped on serial child sex offender Coello so hard the tread of his shoes could be seen on Coello's body.
Judge Richard Foster said: "It was a callous, premeditated murder of a helpless victim."
Former lover
Foye, who had boycotted the trial and was not present for the verdict, cut off both his ears in Woodhill Prison in Milton Keynes while waiting for the case to come to court.
His defence had argued he should be convicted of manslaughter on the grounds of diminished responsibility.
After convicting Foye, the jury was told he was already serving life for murdering his former lover Ms Strachan in front of her son.
He had stabbed her nearly 50 times at her home in Corby on 30 August 2005.
The judge said his jail sentence for killing Coello would run concurrently to the 16-year sentence he was serving for his first murder.
It means Foye cannot even be considered for parole until he is aged 61.