Peace rally for Luton after shootings and stabbings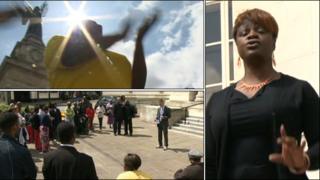 Community leaders in Luton have held a peace rally in reaction to the number of recent stabbings and shootings.
People gathered outside the town hall at midday to hear talks by various speakers.
There have been 12 gun-related incidents in the town in 2013 and three fatalities since last September.
Pastor Lloyd Denny, chair of Luton in Harmony, said the Non Violence Alliance, Walk to Freedom and Tropical FM were involved in the rally.
"We want to give some support to the families affected and their friends," said Pastor Denny.
"It's a time of prayer, support to families as a whole and preaching peace and reconciliation."
'Side-by-side'
Glenroy Campbell, from the Non-Violence Alliance - member of GANG - God's Anointed New Generation, said ahead of the rally: "We are just sick of the violence that is going on in Luton and will gather together on Sunday to show our solidarity.
"If everybody comes out who is really against what is going on in Luton and stands side-by-side with each other, then everybody who is against it will know that they are not alone."
Deputy Police and Crime Commissioner for Bedfordshire, Tafheen Sharif, said she understood the feeling of unease in the town.
"You do hear a lot of it, but if you put it into context, the fact is it is not as bad as other places similar to Luton," she said.
"We are trying our utter best in the police to get that uneasiness away from people and give them some reassurance."
Luton in Harmony is a community campaign group launched just over three years ago.
It says it aims to build a positive reputation for the town and promote understanding within its communities.
The Non Violence Alliance was formed more recently, following the death of 19-year-old Delaney Brown in Leagrave in September.