Luton prostitute petition: Residents target councillors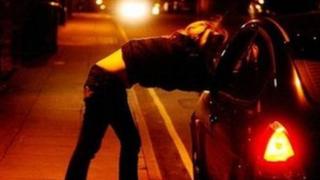 A group complaining about prostitution has handed in a 2,000-signature petition calling for a vote of no confidence in two Luton councillors.
Petition organiser Shahzad Khadam said residents of High Town felt abandoned by councillors who he claimed took greater care of prostitutes.
The petition targeted Andrew Malcolm and Roxanna Whittaker for censure.
Mr Malcolm,speaking on behalf of both of the councillors, said residents' concerns were police issues.
Mr Khadam said the borough council had set up cameras in Luton's red light area just before the prostitutes moved to High Town about six years ago.
Residents had reported activities to police and the council since then.
Mr Khadam decided to take more action after he had an "altercation" with a pimp in the shop that he runs in High Town .
Protest 'laughed off'
"There is a centre for the deaf, a care home and homes where vulnerable people live around here," Mr Khadam said.
He talked to local people and a group of about 20 decided to mount a campaign.
"All the sympathy was for the prostitutes. They had a drop in centre and welfare workers. They all laughed off our protests and did nothing.
"The councillors never answered our phone calls or emails so we decided on the vote of confidence petition and a media campaign to tell our story.
"We are upset by cars cruising around the area. Used condoms and needles litter the streets and park areas where a lot of children play and old people are afraid to come out of their homes after dark.
"These councillors who are paid to look after us are just turning a blind eye to the problem."
High Town councillors Andrew Malcolm and Roxanna Whittaker said: "The vast majority of these residents concerns relate to policing issues which is why we are continuing to work in partnership with the police to address these problems.
"When we have been approached by residents we have done everything within our power to support them."
Leader of Luton Borough Council Hazel Simmons she said: "We are fully aware of the issues and have complete and total sympathy for all residents who are suffering at the moment.
"What they are having to put up with at the current time is unacceptable."