Badgers stop play at Rickmansworth Cricket Club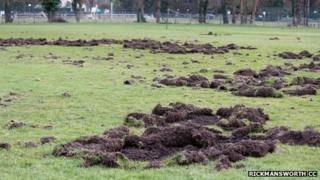 Badgers have stopped play at one of England's oldest cricket clubs after they tore huge chunks out of the pitch.
The damage has forced Rickmansworth Cricket Club, in Hertfordshire, to postpone all of its games in April and May as staff try to repair the ground.
It is believed the badgers were attracted by bugs thriving in the damp pitch, with the club unable to treat the ground due to the cold weather.
The club said it had been offered help from the ECB, which is yet to comment.
Club secretary Paul Blackwell said: "They've made a terrible mess.
"They can't go on to the square because it's quite hard, but around it where the bowlers run up and where the players are they've turned it into something from World War One. It's terrible."
'Really stuck'
Mr Blackwell said it was the first time badgers had disrupted the club's season in its 226-year history.
He said crows had contributed to the problem and their adjacent second pitch had also been affected by moles.
He said the club has spent about £1,000 in total trying to fix the problem, with hundreds of pounds spent on garlic spray to put off the badgers, but so far it had not worked. It is illegal to kill badgers.
He added the damage to the pitch could cost £5,000 to fix and after last year's wet summer the coffers of the club were being rapidly depleted.
"We are worried our players, who obviously want to play cricket, will go elsewhere. They play on a pay-to-play basis, so we don't have annual subs we can delve into to try and sort it," said Mr Blackwell.
"If there's no cricket, there's no bar money either, so we are really stuck at the moment. We also haven't found another ground yet where we can play.
"The most likely scenario is that we will just have to wait until June when the weather gets warmer and the pitch starts to harden, so they won't be able to get to the bugs."
Rickmansworth Cricket Club founded in 1787 and has hosted a number of England warm-up matches, including a game a few days before England were forced to burn a bail after their defeat to Australia in 1882, sparking the Ashes series.