Stanstead Abbotts' Red Lion pub displays police mug shots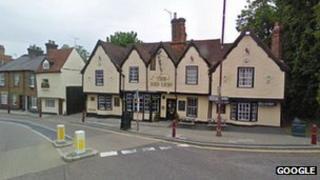 Visitors to a Hertfordshire pub can now see who police are trying to trace when they pop in for a pint.
The landlord of the Red Lion in Stanstead Abbotts, Mass Hosseini, has installed screens to show sport and advertise pub events.
He is also allowing police to display photos on them of people wanted for questioning in connection with local crime.
The screens will also be used to publicise crime prevention advice.
PC Dean Watson said: "We tend to have a high success rate when we release information about people we are seeking into the local community."
Mr Hosseini, who does not get paid for the use of his pub's equipment, said he was "only too happy to help".
"We have a good crowd in the pub and I am sure they will be happy to help the community where they can," he said.
Hertfordshire Police said it was in discussions with other pubs and businesses across the area with similar screens that could promote its messages.