Mural honours Olympic long jump champion Greg Rutherford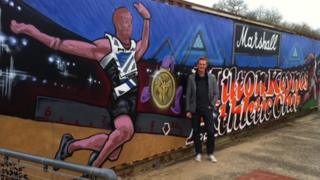 A giant mural in honour of Olympic long jump champion Greg Rutherford has been painted in Buckinghamshire.
A team of four artists spent approximately two days painting the tribute at Milton Keynes Athletics Club, where the athlete trained.
Rutherford, from Woburn Sands, earned a gold medal with a jump of 8.31m at London 2012.
He said: "It's incredibly impressive, they have got the right position of me in the air."
The mural, which measures about 8ft (2.4m) by 20ft (6.1m), is painted on a trailer next to the long jump pit on the edge of the athletics track at the Stantonbury Campus club.
It was painted by a team under the leadership of Neil Kean from Arkade Graphics in the town, and also features Mervin Luckwell who competed in the javelin event at the 2012 Olympics.
'Brilliant job'
It was commissioned and funded by club president Milford Callow and his wife, who said it was "their gift to the club and the athletes concerned".
He said the £600 cost was "money well spent".
"I think it's superb, it's well up to my expectations," he said.
The club has given me a lot over 50 odd years and it's nice to give something back to them."
Rutherford, whose gold medal was Britain's first in the Olympic long jump for 48 years, said: "I think it's absolutely fantastic, it's testament to the artist that they can do this with just spray cans, it's absolutely amazing.
"I think the likeness is pretty much there, I have an awfully contorted face when I am jumping, and that's the look, [they have captured] they have done a brilliant job."