Central Bedfordshire plan for 158 traveller pitches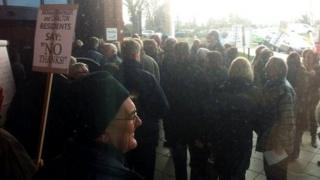 Police were called to control the crowd when more than 200 Central Bedfordshire residents packed a meeting to discuss possible gypsy and traveller sites.
Dozens more were left outside the meeting in Chicksands on Thursday.
Residents heard that 157 more pitches were needed and a shortlist of 32 potential sites was revealed.
Central Bedfordshire Council maintains no more than 10 pitches would be set up per site but traveller representatives said their side had not been heard.
Members of the local affected communities voiced their objections to the proposals.
Joseph Jones, secretary of the Gypsy Council, said the unitary authority had not taken the time to ask travellers what they wanted.
Central Bedfordshire Council has set out the plans to meet needs over the next 20 years and said it had a "statutory obligation" to provide accommodation or sites for gypsies and travellers.
A full consultation will follow with a final decision and the adoption of the chosen sites due in 2014.