Three-month blaze wood plant's licence revoked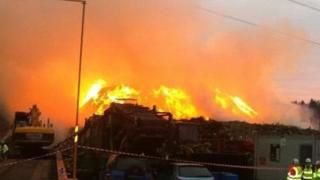 A recycling centre in Hertfordshire has had its licence to operate withdrawn after a fire near the M1 that took more than three months to put out.
The Environment Agency revoked the permit of Wood Recycling Services Ltd to store wood and composting waste.
A blaze broke out at the plant, in Appspond Lane, in Potters Crouch, near St Albans, in November. It was finally put out on 8 February.
The company, which has 20 days to appeal, is yet to comment.
The Environment Agency had served an enforcement notice on the owners before the fire to restrict the levels of wood being brought on to the site.
172 fire engines
A spokesman said: "We have been concerned about the excessive volumes of waste on site, and the associated environmental risk, since winter 2011.
"Despite our advice and guidance to them, WRSL have not taken adequate action and we escalated our enforcement."
The blaze, near junction 8 of the M1, left 15 residents with an "intermittent" water supply for several days as firefighters used supplies to tackle it.
Hertfordshire Fire and Rescue Service said it attended 24 hours a day until 26 November, during which time, 172 engines visited the site.
Several roads were shut as a result of smoke in the immediate aftermath.
A fire investigation concluded the blaze was probably caused accidentally.