Welwyn couple pay bedroom tax to keep cancer son's shrine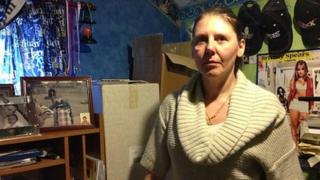 A Hertfordshire couple will see their housing benefit cut by £29 per week to keep a bedroom shrine to their son.
Tony Chapman died of lymphoblastic leukaemia cancer in November 2002, aged 14, after a 10-year health battle.
Cheryl and Michael Chapman live in a three-bedroom council house in Welwyn Garden City and said they would go without food to keep their son's room.
Welwyn and Hatfield council said the rules gave them no discretion but the couple had the option to pay and stay.
The Chapmans were offered a one-bedroom flat and advised of money they would be docked if they remained in their current home.
In a statement the borough council said about 900 council homes would be affected by the so-called "bedroom tax" changes from April and advice letters on the options that tenants face have been sent out.
The statement said: "If they wish to remain in their property and receive less housing benefit then by all means this is their choice.
"Neither the benefit service nor the trust has any intention of placing pressure on them to transfer to a smaller property."
'Pain of loss'
The couple suffer health problems and and have not worked since their son died a decade ago.
They have kept a light on in the room since the day they got back from the hospice where their son died.
Mrs Chapman said: "Tony was a lovely, happy boy who loved to tell jokes.
"He was four-and-a-half when we were told he had a blood disease and that started 10 years of visits to hospitals.
"We have kept the room as it was when he died. His hats, which he used to wear when he lost his hair, are hung up next to his posters and pictures of him.
"Some people have said we should move on but the pain of loss that you suffer every day does not go away.
"All our memories of him are in this house where he grew up.
"We can't really afford the £29 but we'll go without food rather than move away," she said.
The council statement said: "Welwyn Hatfield Borough Council and the Community Housing Trust are sensitive to the issues that are facing many tenants who will be affected by the 'bedroom tax' (Social Housing Under Occupancy) from April 2013.
"The Trust has already visited many of the 900 homes affected offering help and support.
"Neither the council nor the Community Housing Trust has any discretion to operate outside of the act.
"Though we sympathise with Mr and Mrs Chapman, we can only advise them of their options."