Olympic weightlifting TV row murderer jailed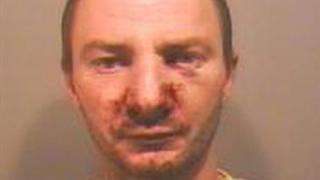 A man who murdered a housemate in a drunken row over the Olympic weightlifting on television has been jailed for life.
Konrad Kaczynski, 30, attacked fellow Pole Wlodzimierz Jablonksi, 51, at their home in Luton during an all-day drinking session.
He denied murder but a jury at Luton Crown Court jury unanimously found him guilty.
Judge Richard Foster told Kaczynski he must serve at least 14 years in jail.
Mr Jablonski was attacked at a shared house in Stockwood Crescent on the afternoon of 7 August last year.
The court heard he, Kaczynski, and a third Polish man, Janusz Przystawski, 48, had been drinking all day.
'Stamped on head'
All lived in rooms at the house, along with a couple and their son.
Beverley Cripps, prosecuting, said the three men were watching the Olympics on television in Mr Przystawski's room.
The prosecution claimed an argument developed, resulting in Kaczynski suddenly attacking Mr Jablonski.
Mr Przystawski said Mr Jablonski fell to the floor and he saw Kaczynski kick his face and body.
He died six days later in hospital from his injuries.
Jailing Kaczynski for life, the judge told him he had embarked on a "vicious attack", fuelled by drink.
"No doubt fuelled by that drunkenness, you retaliated to a dispute over the weightlifting and embarked on a vicious attack," he said.
"You punched the victim round the head until he collapsed, unconscious. As if that was not enough, you stamped on his head and kicked him in the ribs.
"I accept you did not intend to kill him and the attack was on the spur of the moment."
Afterwards, Det Insp John Arthur of Bedfordshire Police said: "Wlodzimierz's death could have been avoided had Kaczynski shown some common sense and control.
"This case illustrates the dangers that excess alcohol poses and how a simple argument can leave a man dead and his family grieving."