Protesters fear Leighton Buzzard retail parks will 'kill high street'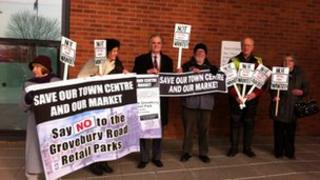 Campaigners who fear out of town shops in Leighton Buzzard will drive people away from the town centre have protested at council headquarters.
Central Bedfordshire councillors decide on Wednesday whether to approve plans for two retail parks on sites in Grovebury Road, south of the town.
Developers said they wanted to offer consumers "real retail choice" and create jobs.
Protesters said it would "kill" the town's traditional high street.
The first of two planning applications to be discussed by the Development Management Committee is Barwood Developments' proposal for a retail park on an eight-acre (3.4 ha) site.
It includes a large DIY unit and eight smaller shops, a pub or restaurant, a drive-thru restaurant and nearly 400 parking spaces.
The second, from the Claymore Group, is to build retail warehousing for a "DIY unit", including a garden centre, an area for a restaurant or cafe, four smaller shops and parking for over 300 vehicles on a seven-acre (2.9 ha) site.
'Nothing new'
Ian Dillamore, whose family-run shop Dillamore's Furnishers has been in the town's High Street for 90 years, said the development would "not offer anything that we don't already have".
"I think it will kill the High Street," he said.
"In the furniture business, big shops are looking to close shops down rather than open them up so I am a little surprised that new ones want to come into this area anyway."
In a statement, the Claymore Group said it had "consulted widely" and listened to the views of residents and councillors.
"Our guiding principle from the outset of this project has been to offer real retail choice which complements the town centre rather than competes with it," it said.
"Our development will provide a number of community benefits including the creation of up to 100 jobs, substantial contributions to the town centre, improved transport links and the potential for up to 15 small start-up business units."