Shobhna Jethwa death: Married mother had two boyfriends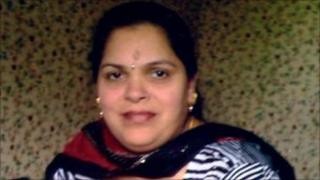 A married woman with two lovers was found dead by her children when they came home from school, a court heard.
Sultan Khan, 51, of Durbar Road, Luton, denies murdering Shobhna Jethwa, 45, at Butely Road home in September 2011.
The court was told they had rowed about compensation he had been awarded after an accident at work.
Mrs Jethwa, who was described as having a "high libido", was found with 20 stab wounds by her 16-year-old daughter and son aged 12.
A new jury has been sworn in at St Albans Crown Court after the trial was stopped on legal grounds last week.
It was claimed she had helped Mr Khan after he was hurt while working on a new bypass in Oxfordshire in May 2011, but then "badgered" him for money.
Prosecutor Sam Mainds said the children were interviewed by police and the 12-year-old boy told them he knew where his mother's boyfriends lived.
He took the officers to Dunstable Road in Luton where restaurant worker Ashiq Hussain lived and then showed them an address in Leagrave Road where Mr Khan was living at the time.
Mr Mainds said Mr Khan was the killer and for two years had had an intense relationship with Mrs Jethwa who referred to him as "the old man" and younger lover Mr Hussain as "the short man".
Mrs Jethwa's husband Rajesh, a railway manager, had an alibi for the murder, the court heard.
Not intended to kill
"At the time, he was a train manager on Virgin Railways and was on a train between Manchester and Euston. That excludes him from being the killer," Mr Mainds said.
Two knives were recovered from a kitchen drawer in the dead woman's house. Blood and tissue from her body was found on one of them. On the other knife was the defendant's DNA, he said.
Mr Mainds said: "She and Mr Khan had an intense relationship for two years. She was a woman who did not leave him alone. He sneaked down to her home when her husband was away. She fed him and they had sex together.
"She looked after him after his accident and cooked for him at his home.
"The son heard rows between her and the defendant in which she demanded half of his accident money because she had helped him."
Mr Mainds said the prosecution did not believe that Mr Khan had gone to the house to kill Shobhna but alleged he attacked her while she was ironing.
"He did so in a violent frenzy. He was in a violent temper. It was not a planned murder," Mr Mainds said.
The case continues.