Fishermead 'drug turf' shootings: Murderers jailed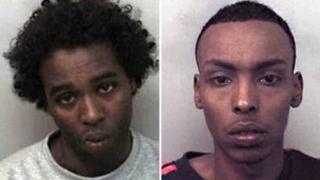 Two men have been jailed for life for the murders of two teenagers who were shot in a "drug turf" dispute.
Mohammed Abdi Farah, 19, and Amin Ahmed Ismail, 18, were killed in an alleyway in Milton Keynes' Fishermead Estate on 26 May 2011.
Fuad Awale, 25, and Sharmake Abdulkadir, 22, were found guilty at Luton Crown Court on Thursday.
Awale, the gunman, was told he must serve a minimum of 38 years. Abdulkadir is to serve a minimum of 32 years.
'Trifling matters'
Mr Justice Nicol told Awale: "You were aggrieved because you believed Moh had some of your cannabis.
"You also thought he had insulted you a day or two before when he made a disparaging remark about your height.
"These were trifling matters, but you felt affronted.
"I am sure it was you who pulled a gun from your pocket and shot Amin through the head at relatively close range."
He said Mr Ismail had "done nothing" to Awale, but he been shot "so that he should not live to see what you were about to do to Moh" and "to make Moh scared, very scared about what was to happen to him".
"You told Moh to go down on his knees. He begged for his life. You ignored his pleas and shot him through the head as well."
The Judge said Awale, of Cranesbill Place, Conniburrow, returned to the scene, possibly to gather up some evidence but found Amin was still alive and shot him again.
"Each of these three shots was fatal. Each had the characteristics of an execution," he said.
During the 10-week trial, prosecutor Ben Gumpert said it was possible that Mr Farah had got hold of some of Awale's cannabis and was giving it away on the estate.
Awale and Abdulkadir travelled together to the Netherlands - where Abdulkadir had three convictions for gun-related crime - to collect a Belgian automatic pistol.
Abdulkadir, of The Fleet, Springfield, was also found guilty of illegal possession of a firearm.
A third man, Yahya Harun, 22, from Fishermead Boulevard, Milton Keynes, pleaded not guilty to both murders and was cleared by the jury.