Enforcement notice against Bedford Free School withdrawn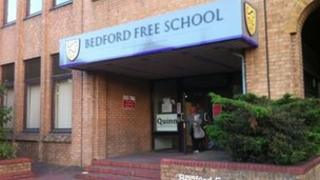 A free school in Bedford that opened after planning permission was refused twice has won a "stay of execution".
Bedford Borough Council has withdrawn a notice against Bedford Free School that could have forced pupils to move out.
The school has appealed to a government inspector and a hearing has opened but a decision is not expected for weeks.
A "breach of condition notice", due to come in to effect on 3 October closing the building to children, was quashed and a new date set for 31 October.
On the scheduled first day of term nearly 200 pupils turned up to the free school, housed in a former Bedford College building in Cauldwell Street.
The council had rejected a second planning application which attempted to address concerns about traffic congestion.
The school then lodged an appeal with the government's Planning Inspectorate.
The school, for pupils aged 11 to 13, was due to open in September 2011 but was delayed by a lack of premises.
Another notice
A new building was found, but Bedford Borough Council decided letting it open opposite the college would cause too much disruption.
Principal Mark Lehain said: "We are glad common sense has prevailed and that the Bedford Borough Council is going to await the result of the appeal over the planning issue.
"We have been busy here getting on with educating our new pupils, as well as recruiting those for September 2013.
"But we did have to make contingency plans in case we had to move out on 3 October."
The breach notice has been replaced with another enforcement notice by the council.
That will not come into effect until the end of October, at the earliest, and would be overruled by any decision announced by the government Inspector.