Etienne Stott: Gold post box marks medal win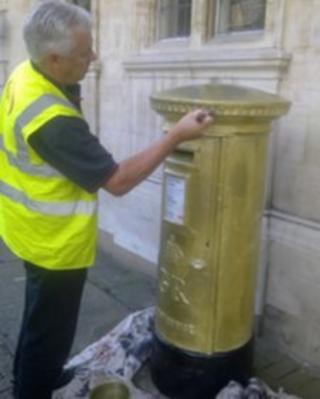 A post box has been painted gold to mark the achievement of Olympic gold medal winning canoeist Etienne Stott.
The paintwork was carried out on the box in St Paul's Square in Stott's home town of Bedford.
Stott, and Tim Baillie, from Nottingham, claimed Britain's first ever Olympic gold in the C2 category of the canoe slalom at Lee Valley.
A Gold Medal stamp to celebrate the medal win is also being issued by the Royal Mail - the third of the Games.
Baillie and Stott, ranked sixth in the world, produced an error-free run to take a shock win, with David Florence and Richard Hounslow taking silver.
The British crews were the only pairs not to pick up penalties on their runs to complete Britain's most successful day in the history of the sport.
Stott said: "It's weird. It could have been a disaster and now it's a dream. There is nothing taken for granted in this sport and getting to the final was amazing."
Georgie Preston, Stott's girlfriend, said after Thursday's win: "It's been an incredible day. Tim and Etienne deserve this, it's the proudest moment of my life."
She added: "I've seen him very briefly - but he's too busy kissing his medal."
Stott learned to paddle on the River Great Ouse with St Andrews Scouts. He developed his slalom skills with the Viking Kayak Club.
As well as being an Olympic canoeist, Stott, who has a degree in engineering, is studying to become a psychologist.